Anne Stone '53 Continues Family Legacy of Giving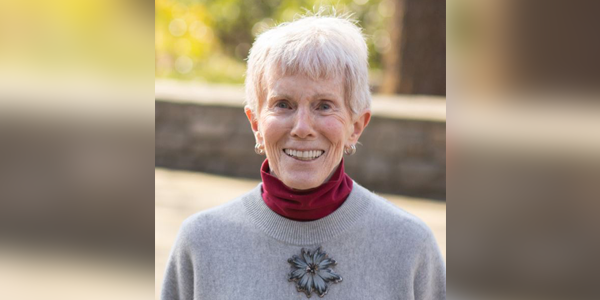 Anne Stone '53, and her siblings, Jack Luetkemeyer '53 and Jean Prema '57, grew up in a household where the value of giving back was instilled at an early age. Their parents, John and Anne McLanahan Luetkemeyer '27, made sure the children appreciated and cared for the institutions for whom they benefited.
"Every family member has had an impactful experience at Calvert," said Anne recently. "My mom graduated from Calvert in 1927, her sister in 1919, her children in the 1950s, and several nieces and nephews, and grandchildren, including my children, followed in her Calvert journey. The School connected us as a family. It's where we all got our start."
Anne's father was a former state treasurer, civic leader, and president and chairman of the Board and chief executive officer of Equitable Trust Co., and her mother and father were active volunteers in the Baltimore community. John and Anne Luetkemeyer '27, passed away in 1998, and left their children with the tools and resources to carry on a legacy of caring for others. The Luetkemeyer family has given back to Calvert through extraordinary service and financial support. Family members have served on the Board of Trustees and led major fundraising efforts throughout the last several decades. Major gifts from the family touch all areas of the school and include the Luetkemeyer Planetarium, the Luetkemeyer Wing in the Lower School, the Luetkemeyer House in the Middle School, the Anne McLanahan Luetkemeyer '27 Middle School Assembly Hall, and the soon-to-be Luetkemeyer Athletic Center.
"My parents truly led by example. Giving is not just about writing a check. It is an investment and a partnership."
Anne's generosity and creativity was built on her strong family roots. She wanted to support the institutions who most influenced her educational journey and the one of her sons, Luke L. Stone '86 and Dorsey D. Stone, Jr. '89.
"I have two sons. One was a furniture maker in Oregon, and the other is an attorney in Boston. They had very different educational needs and took very different professional routes. But both agreed, like so many within my family, that Calvert was their best education and the school they admired the most."
Her most recent charitable gift supports the Luetkemeyer Athletic Center, which was powered by a lead gift from her twin brother, Jack. Her son, Luke Stone '86, passed away in 2017 and an endowed speaker series was established in his name by his father, Jim Stone, and the Kahlert Foundation.
"For me, these gifts to Calvert continue on with a legacy started by my parents when I was a young student at Calvert. This is an opportunity for my charitable investment dollars to make a difference in the lives of today's students."