Jackie and Jim Stradtner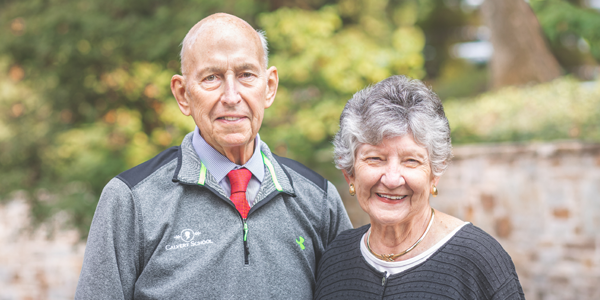 For Baltimore natives Jim and Jackie Stradtner, giving to Calvert School means supporting future students with the strong academics and nurturing community their grandchildren enjoyed more than 10 years ago.
Back then, Jackie picked up their grandchildren – Elizabeth Banta '08 and James Banta '10 – from school on Wednesday afternoons, and Jim would meet them at home for some family time. During those years, the Stradtners remember attending heart-warming Grandparents Days and enjoying Calvert's welcoming campus environment. They strengthened their ties to The School even more when Jim joined the Board of Trustees in 2006, eventually becoming Chairman in 2014.
Now, two years after his retirement from the Board, Jim and Jackie sat down with Sarah Walton, Calvert's Director of Development, to discuss their decision to establish a residual trust to benefit future Calvert students.
"Several years ago, Jackie and I reached a point in life when we felt like we satisfied all of the important priorities – raising a family, paying tuitions, providing for retirement – that we could then make plans to give back in a significant and meaningful way," Jim said.
Going forward, the Stradtners' generous gift will enhance Calvert's academic programs and ensure that Calvert boys and girls receive the challenging curriculum and exciting opportunities they need to succeed. Both Jim and Jackie, a former teacher, believe that a high-quality education provides the skills and knowledge needed for lifelong success, and they are eager to support Calvert's offerings.
"I want to leave a legacy of support for the opportunities Calvert creates for its students," Jackie said.
As senior advisor at Century Capital Management and managing partner of Century Private Investments, Jim has spent decades in the financial sector, but he credits his time in law school with helping him succeed in business. While he never practiced law, Jim recognizes the importance of his studies, and he believes that a robust Calvert education can similarly benefit future students.
"Someone may ask, 'Why make a gift in this way? You won't be around to enjoy it,'" Jim said. "For us, it's not about that. It's about the future and the impact we will have on generations to come. We believe strongly in that."
Calvert School is extremely grateful for the Stradtners' generous gift, and we know it will elevate our students' learning and development for many years to come. To learn more about this type of bequest, please contact Sarah Walton at swalton@calvertschoolmd.org or (410) 243-6054 ext. 141.